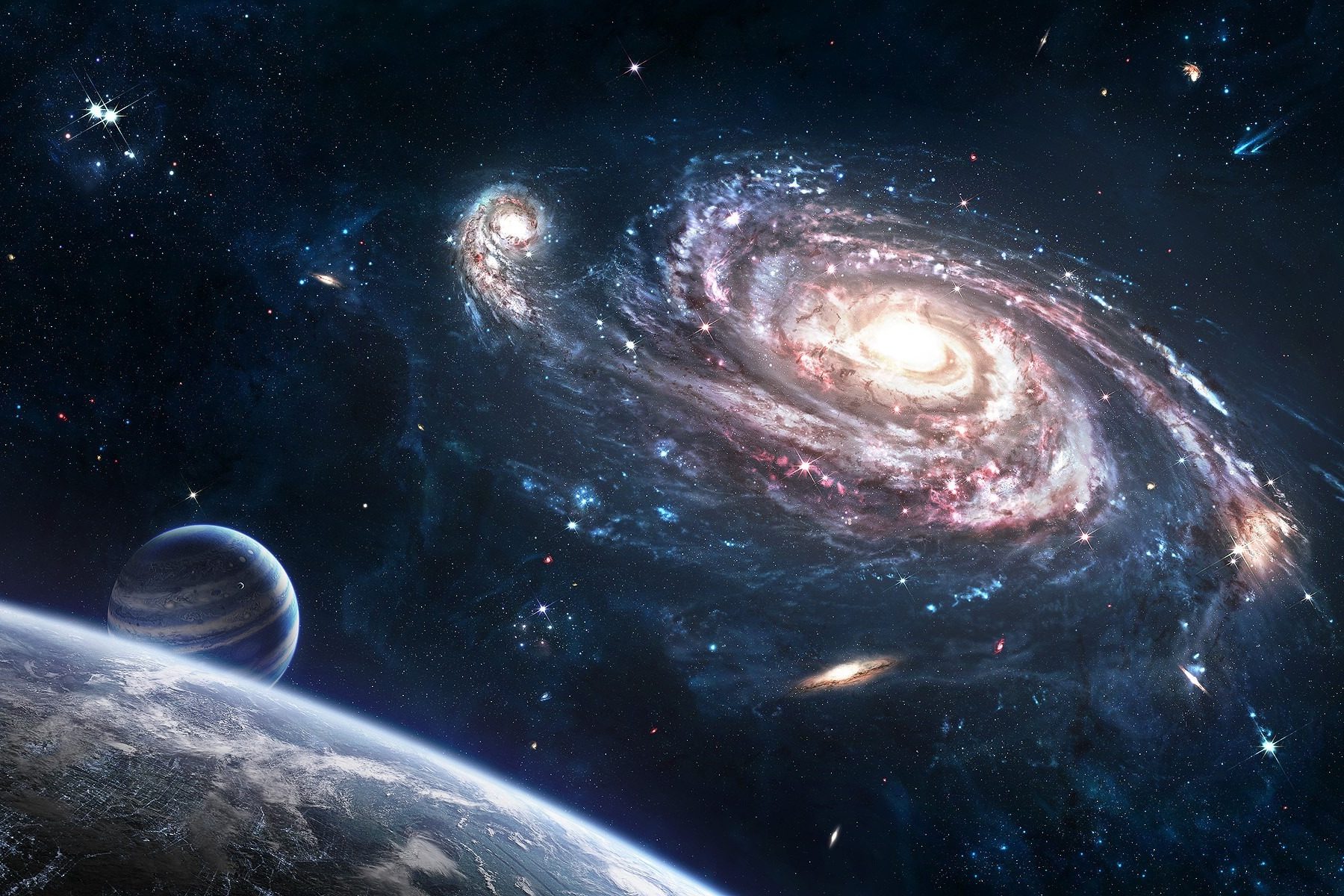 Physics strives to get it together, from the incomprehensibly tiny to the unimaginably enormous. Physicists are seeking to unify two major models of the universe: general relativity and quantum theory, in a grand quest for a Theory of Everything.
General relativity is the study of the very large: planets, solar systems and galaxies. Quantum theory is the study of the very small: subatomic particles, and particles within those particles called quarks.
The problem is that the laws for one of these areas don't work in the other. The main conflict is that general relativity says that you can predict the behaviour of an object, whereas quantum theory says you cannot, that the best you can do is predict the probability of its behaviour. It's as though there are two completely different civilizations within the same country, each with their own laws, yet somehow living together in harmony.
The closest physics has come to a grand unified theory is string theory, which states that everything is made up of tiny vibrating strings of energy that exist in ten dimensions. The way that a string vibrates determines the type of particle it is, from an electron to a gravity particle. It's a terrific theory; there's just one little problem – there's no way to prove it. This is because strings, if they even exist, are far too small to be detected. If an atom were enlarged to the size of our solar system, a string would be the size of a tree.
There is, however, another Theory of Everything proposed by British astrophysicist Julian Barbour. He believes, incredibly, that there is no such thing as time, that instead we live in an eternal series of moments he calls "nows". As Barbour states: "If you try to get your hands on time, it's always slipping through your fingers. People are sure time is there, but they can't get hold of it. My feeling is that they can't get hold of it because it isn't there at all." There is no past and future, just the present;  time is an illusion. Removing time from the equations allows you to unify the two theories. Like string theory, this theory of timeless physics is fascinating and impossible to prove.
The world of information faces a similar unification challenge. As with physics, there are two types of information: small and large.
Small information includes all facts such as:
a person's name

how to fix a computer

where New York City is located

your phone number

when you have to go to the dentist
Large information is comprised of all philosophy and wisdom including explanations of:
why we exist

our purpose in life

good and evil

right and wrong

whether God exists

what is love

whether there is a soul

what is reality

what happens after we die

the best way to lead a happy, meaningful life
As with physics, these two worlds of information appear completely incompatible. How could knowing how to tie one's shoes have anything to do with knowing our purpose in life?
The solution is to apply Barbour's view and remove the time component from information. If you could know all the facts in your life at the same time, you would gain wisdom. What converts a fact into wisdom is the point in time that you gained knowledge of the fact.
To understand this further, we know that in life, often things don't go the way we want, for example:
you're stuck in traffic and late for a job interview

the person you want to date is not interested in you

someone is keeping you waiting
These are all facts, all small pieces of information.
Other facts are:
you didn't get the job, but later got a much better one

you weren't able to go out with the person you wanted to, but ended up with someone else who was a better fit

because someone kept you waiting, you avoided a car crash
The only difference between these two sets of facts is time. Now imagine if there was no time, and that you knew all these facts simultaneously. You would gain a much larger piece of information, which is that a negative event can actually be positive.
You may also gain the wisdom that:
More important than what happens to us in life is how we react to it.

Worrying about something does not help.

Everything happens for a reason, even though it may not be obvious at the time what the reason is.
People often lament: If only I had known then what I know now. A fact becomes important when we become aware of it in relation to something else. A person gains wisdom by making mistakes and learning from them, or by seeing others make mistakes and avoiding them.
Wisdom, therefore, is the knowledge and interpretation of facts outside of time. This is why certain ideas, such as love, goodness, charity, mercy, justice and fairness are considered timeless.